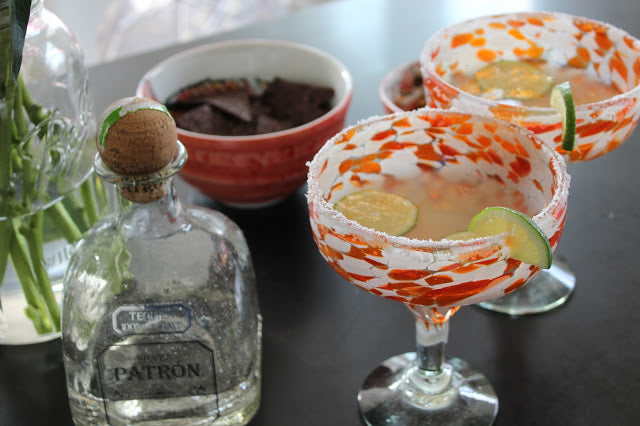 No matter if it's Tuesday or Friday, we could all use a margarita, or two, to make it through the work week! Plus, who doesn't love a night in with their girlfriends and my man, Jose? Grab a couple of cute margarita glasses (mine are from HomeGoods) and get to mixing. This recipe will not disappoint.



Ingredients:
3 limes
1 tablespoon of blue agave nectar - you can add more if you like yours a little sugary
1.5 tablespoons of water
Rimming salt
3 oz tequila
2 oz triple-sec
Ice

Serving size: 2

Just always remember 3-2-1: three parts tequila, two parts triple-sec, 1 part lime juice.

Fill a shaker with ice and add tequila, triple-sec, lime juice (2 limes), and blue agave. Then, shake and bake baby. 
With your third lime, cut a lime wedge and rub it around the rim of the margarita glass. 
Pour salt onto a plate and dip the glass, rotating until the entire rim is covered. 
Add ice to the glasses and strain the margarita mix. Cut extra lime slices to add as garnish. 
Cheers! Don't forget the chips, salsa, and queso!