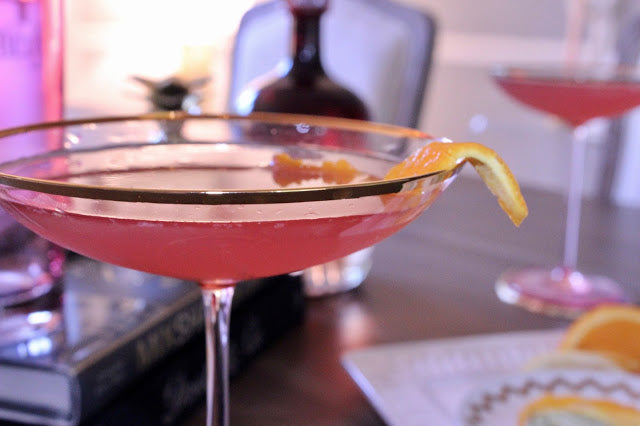 It has been a while since I've shared one of my favorite cocktails!!! Life has kept me busy, but there is always enough time to create and indulge in a libation, or two. A cosmopolitan is one of my go-to drinks. Not only is it pretty to look at, but the martini glass/coupe helps to gauge my level of intoxication. I always monitor the drink slosh. Once it starts going over the edge, I know I have had a cocktail or two too many. Am I right?!? Don't worry, I only consumed one cosmo in the writing of this post. :)
This blood orange cosmo is pretty amazing and it's a fun twist on the traditional recipe. Cheers!
Blood Orange Cosmo
Makes 1 cocktail
Ingredients
1 oz vodka
1 oz cranberry juice
1/2 oz orange liqueur
1/2 oz blood orange soda
lime wedge, orange wedge, lemon wedge
ice
Muddle lime, orange and lemon wedge in shaker

Add orange liqueur, cranberry juice, blood orange soda, vodka and ice. Shake.

Pour into martini glasses. Rub the rim of the glass with an orange peel. It adds to it, trust me. 

Garnish with an orange or lime twist.