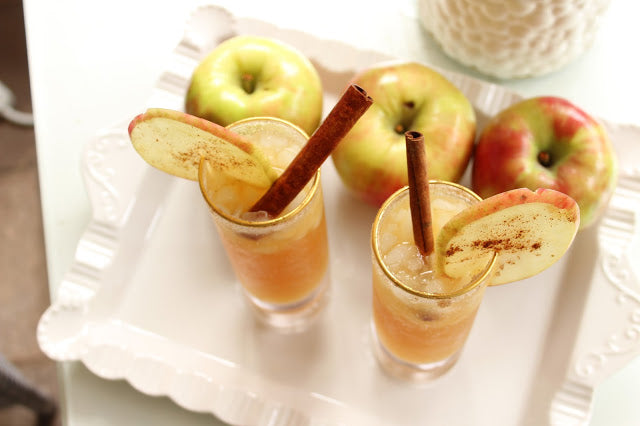 Fall is HERE and that means it's time for pumpkin spice everything, apple picking and fires! To kick things off right, I figured a themed cocktail was necessary. And, a spiced cider margarita seemed quite fitting. You're welcome! 


Cocktail Ingredients:
5 ounces spiced apple cider
1/2 teaspoon lemon juice
.5 ounces Grand Marnier
1.5 ounces tequila (you can use mescal if you want a smoky taste)

For Garnish:
2 tablespoons raw sugar
1/8 teaspoon ground cinnamon
Cinnamon sticks
Apple slices

In a small bowl, combine sugar and cinnamon. Wet the rim of your cocktail glass with water or lemon and dip the glass in the cinnamon sugar mixture.

Pour all of the cocktail ingredients into a cocktail shaker with ice. Shake and bake, baby.

Add ice to your rimmed cocktail glasses and your cocktail concoction.

Feeling fancy? Garnish your cocktail with a cinnamon stick, apple slice and sprinkled cinnamon.