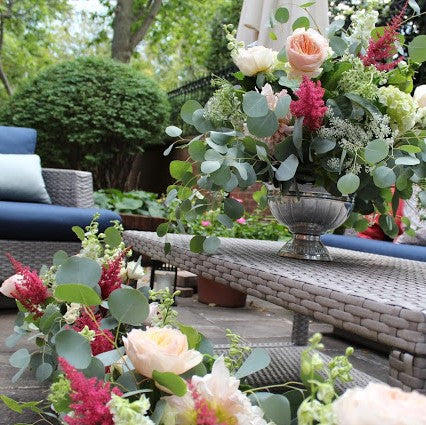 Talk about FLOWER POWER. I'm a sucker for all things floral and I absolutely love how an artfully styled arrangement can transform your tablescape. We all know how expensive floral arrangements can be, and given that I find it necessary to incorporate flowers into my weekly décor, I had to start arranging them myself.
My love for florals inspired me to take a
class
with the QUEEN, Holly Chapple, who taught me the essentials that I needed to make a balanced and romantic arrangement.  And, I recently had the opportunity to put my amateur skills to the test in designing the centerpieces for a bridal shower. Let me just say that they turned out to be total SHOWSTOPPERS. Humble brag.
Flowers bring me joy and symbolize LOVE. We could all do better in spreading a little more love and happiness. The world could use it. So, build yourself, friend or someone random a beautiful Fall bouquet this weekend and follow my tips below. :)
·
1. 
Trim your beauties (on a slant). I typically cut at least 1" off of each stem to ensure that the flowers suck up the water they need to survive.
2. In creating the arrangements, you will need green floral foam or coated chicken wire. Both mediums create stability for your centerpiece. When using green floral foam, make sure to pre-soak the foam beforehand.
3. Start with greenery, then layer in your statement flowers (personal favorite: David Austin garden roses). Don't be afraid to mix colors and textures. Contrast can make for the most unique and beautiful arrangements.