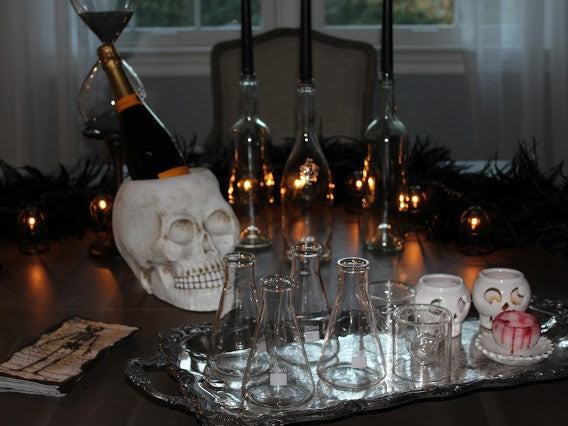 BOO!  Halloween is next week and if you are a procrastinator like me, you probably haven't put up any of your decorations yet or thought about what costume to wear to that party this Saturday night. Not to worry! There are so many easy and fun ways to incorporate festive ideas into your home decor and party planning.


To say that I love Halloween is an understatement. I'm actually OBSESSED with it. When it comes to decorations, you can get SO creative and work within whatever budget you have set. Listed below are some SPOOKTACULAR ideas that you should try this year!!


Halloween Party Essentials:

1. SKULL ice molds and/or floating EYE BALLS - you have to have something festive floating around in your punch bowl. Details matter and your guests will LOVE it. #INSTAGRAMWORTHY

2. Beakers, Syringes & Skull shot glasses - Halloween drinkware is dangerous. There are so many options and you could go CRAZY on the cocktail front. Checkout my Instagram post for drinkware ideas! If you have the app LiketoKnow.it and you like or screenshot my Instagram post, you will receive an email/notification with links to where to find some of my favorite Halloween-themed glassware.

3. Skeleton Mouse/Rat Cheese Board - unless you are lactose intolerant, everyone LOVES a good cheese spread. Get a cheap slate board and style it with various cheeses and of course a mouse/rat toy (it doesn't necessarily need to be a skeleton). I tend to also style my cheese boards with faux cockroaches. It's a great unappetizing yet AMAZING touch.


 

Halloween Decor Essentials:


1. Spooky candles - Black taper candles, bloody candles (see my previous DIY here), and skull candles SCREAM Halloween! This year, I up-cycled wine bottles to create my tablescape decor.
DIY trick: To get rid of the wine labels, all you have to do is soak your bottles in hot, soapy water and scrape. I found that not all of the adhesive residue was coming off after I soaked the bottles, so I applied Goo Gone to remove what was remaining.

2. Cobwebs - Cheap and classic. Like the saying goes, "if you got it, HAUNT it." You can pretty much throw cobwebs on anything for a creepy look. #HAUNTED

3. Lights - From ravens to mummies to ghosts, outdoor/indoor Halloween lights are necessary. Don't be that neighbor that pretends they aren't home. Get festive! Lights attract the trick-or-treaters, DUH!


SHOP THIS POST