DIY: HAVE YOURSELF A MERRY OYSTER CHRISTMAS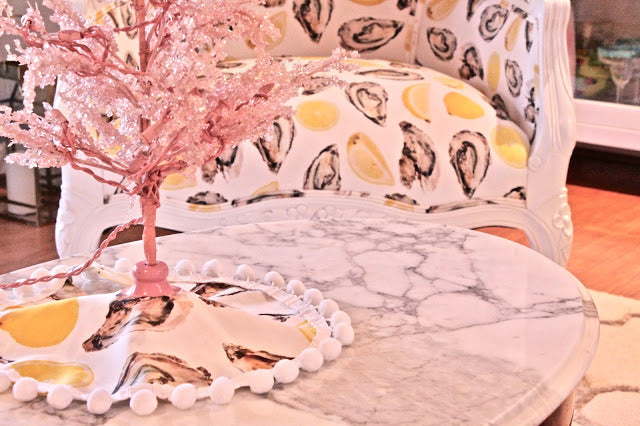 Tis' the Season! I'm starting to geek out over all of the crafty things you can make to decorate your home for the HOLIDAYS. I'm also so excited about some of the festive collaborations that are in the works! HOLY DIY!

When it comes to tree skirts, I like them to have personality and flair, which can be hard to find! So, I figured, why not just make it myself? Given that I love all things Katie Kime, I thought an oyster pom pom skirt was appropriate and fitting. How adorable did this turn out?! I was dying when I saw it all come together.


Things you need:
- 1 yard of fabric. I used Katie Kime's oyster print fabric.
- White Pom Pom Trim
- Scissors
- Air-Erasable Marker
- Sewing Machine
- Ruler
- 12" circular pan lid
- 1.5" - 2" circular bottle

1. Fold your 1 yard of fabric in half (inside out). On the fold, use your air-erasable marker to trace around half of the 12" pan lid (6" diameter). Measure to the middle of the fold of the half circle and trace around half of your 1.5" - 2" bottle. This will be the hole for the tree.
2. Cut your shapes. You should now have a doughnut! Use your ruler to trace a straight line to the inner hole. Cut along the line. This will now allow for your skirt to easily wrap around the tree.
3. You are ready to sew! Place your pom pom trim flush against the fabric edge. Feel free to pin the trim to keep it in place. SEW it and you're done!