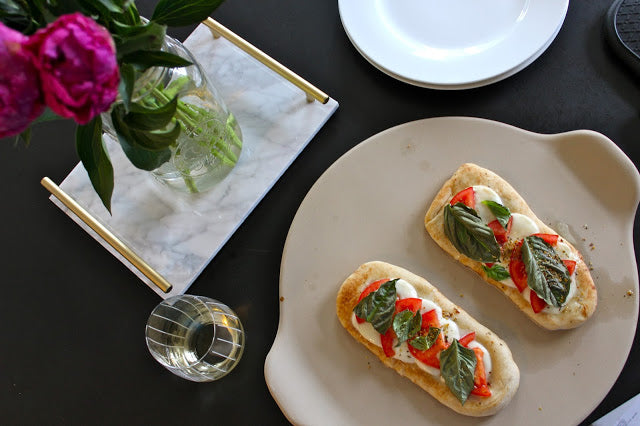 Today I'm talking DIY marble trays! Awhile back my neighbor was redoing his bathroom and had a bunch of leftover marble tiles he was throwing away. I snagged a couple and naturally decided to upcycle them into trays. I'll get to the delicious pizza how-to, but for now, let's DIY marble tiles. 


Materials:

Marble tile
Hardware 

I got mine from Home Depot. Brass hardware can be pricey, so I sprayed mine in gold lacquer. I  created this nifty paint stand (foam + kabob sticks) for the hardware so that I could ensure even paint coverage on the underside of the pull. 

Ruler
Whiteboard marker
E6000 adhesive  
Felt bumpers
DIY Details:

Spray your hardware. 
Use your ruler and whiteboard marker to measure and mark where to place the hardware. I decided to place my hardware .5" from each side edge and 1" from the top and bottom edges.  
Apply the adhesive to the feet of the pull and place on the tray. 
Dry. Allow for adequate dry time. 
Apply felt bumpers to the back of the tray. 
Use to mis en place or to style your decor accessories. I used it for both!
I don't know about you guys, but I am a pizza fanatic. I could literally eat pizza, with ranch obviously, for every meal. Thank god I don't, otherwise I would weigh 1,000 pounds.  I included my quick and easy pizza recipe since I'm sure that all you have been thinking about since you started reading this post is the pizza pictured above. :)

Recipe:

Tandori bread
Mozzarella
Basil
Tomato
Olive oil
McCormick's Mediterranean spiced sea salt
Preheat the oven to 275 degrees. 
Mix olive oil and McCormick's Mediterranean spiced sea salt in a small bowl. 
Cut mozzarella and tomato slices. 
Use a basting brush to apply the olive oil mixture to the tandori bread slices. 
Add the mozzarella and tomato slices to the tandori. 
Cook for roughly 10-15 minutes (or until the mozzarella has melted). 
I put the basil on about 3-4 minutes before the pizza is done.
Nom dot com. It's time to eat. Cheers! 
Here is how I styled some of my bedroom accessories!