Decorate with Wine Barrels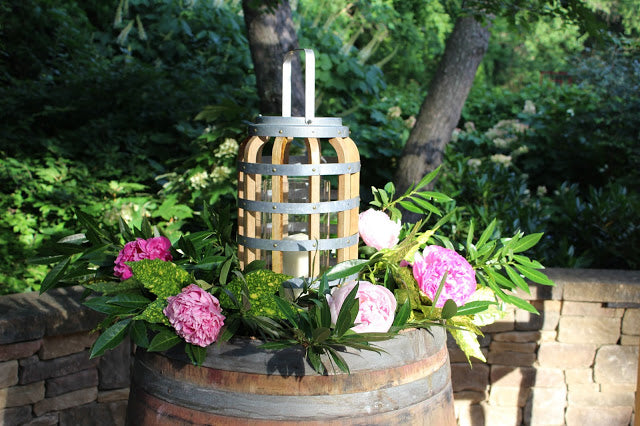 For those of you winos out there, what's a better way to decorate than with wine barrels themselves?! Wedding planning has been on my mind for quite sometime and I have recently decided that I want the overall theme of my reception to be both rustic and elegant. And, let's be honest, what screams elegance and rustic more than wine barrels? From cutting them in half for side tables to garden planters, they are so versatile and timeless.


Ordering a wine barrel can be somewhat pricey, so check with your local vineyards to see whether or not they are selling their old barrels. That's how my mom and I scored four! I plan on eventually using my barrels as cocktail tables and buffet stands for decoration at my reception. However, in the meantime, I've decided to use them as planters. In the pictures below, I styled them with greenery from my garden and peonies. I also styled some yummy Moscow Mules on a wine barrel Lazy Susan (cocktail recipe is below).

Side note: Pots of Silver Drop Eucalyptus normally sit on top of the barrels in my backyard. Eucalyptus is a full sun plant that you will see in many of the loose flower arrangements that you have been drooling over on Pinterest. I can't wait to share my homemade arrangements with you. I'm working on my green thumb and on keeping plants alive for more than a week! :) Stay tuned.

Need inspiration? Check out my Pinterest board for more ways to incorporate wine barrels into your home decor and/or wedding planning.




The Moscow Mule:
Prep It:
- Moscow Mule Mug
- Ice
- 1/2 Cup of Ginger Beer
- 1.5 oz Vodka
- .5 oz Lime Juice
- Lime wedge for Garnish
*Recipe makes 1 cocktail

 Do It:
- Fill your mug with ice. Add vodka, lime juice and ginger beer. Stir.
- Add lime wedge for garnish.