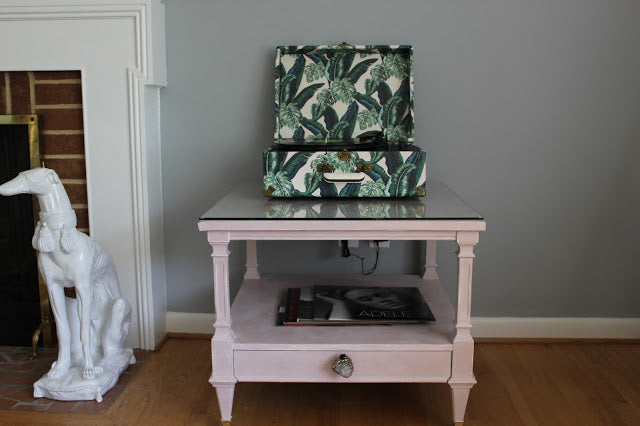 I am a lover of all things pink and banana leaf. Oh, and anything sold by Domino Magazine. Although I spend quite a bit of time stalking my favorite designers on social media for inspiration, I get a lot of my ideas from Domino. Not only do they feature great design stories, but they even sell stuff! This is quite unfortunate for my bank account.


Given my love for their style, I decided to transform my neighbors trashed coffee table into a #SOdomino record player table. It's amazing how you can turn a piece of junk into a stunner with new paint, wax, hardware and a custom cut piece of glass. The soft pink color of Antoinette combined with light distressing created the perfect, modern look that I was going for.

Let's talk banana leaves. I'm CRAZY about incorporating this print into my personal style and decor. In fact, I'm SO obsessed that there may even be some banana leaf prints incorporated into my wedding design. Wink, wink, hint, hint. I'm not sure how I got so obsessed with it. Maybe it is because I have always loved bold patterns and Dorothy Draper, the creative mind behind the interior design of the Greenbrier Resort. Ever see those Pinterest pictures of bathrooms/studies with the banana leaf print wallpaper? It's most likely "Brazilliance" by my girl Dorothy, the legend.  It will cost you a pretty penny, but I'm convinced it's worth it. Not so sure if my fiance is. I've linked her wallpaper  in the collage below.

Note: The banana leaf record player on the table is from Urban Outfitters.  It doesn't look like they carry the record player in that print anymore, but the one linked is equally as amazing. You're welcome.

Products Used:
Annie Sloan chalk paint in Antoinette
Annie Sloan clear wax
Anthropologie hardware in clear quartz
Krylon spray paint in metallic gold
 
 My Current Design Inspiration:
One. Two (Just bought this!).  Three (I'm trying to pick out new tile for the kitchen floor and this encaustic cement tile is on my radar). Four.