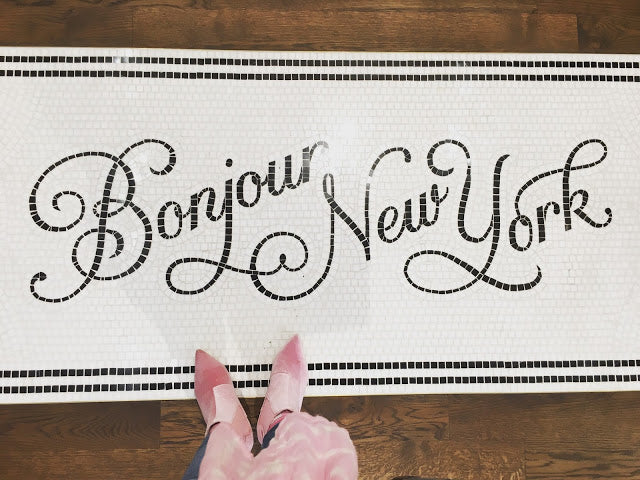 New York, New York. Every time I visit it's an absolute whirlwind, but totally worth it. From the cash-only hole-in-the-wall Italian restaurants to the sprawling speakeasies, the culture and foodie scene of NY is unmatched. I can't forget to mention that the people watching is also spectacular. 
Fall is the perfect time to visit NY. You can actually enjoy exploring the city without, for the most part, experiencing the nauseating smell of summertime trash or the blistering chill of a NY Winter. The Fall weather is IDEAL. Although I'm not a New Yorker and have only visited a couple of times, I always do my diligence before going and have come up with a mini travel guide to share some of my BIG APPLE favorites thus far. 
Dining
Favorite Speakeasy: Beauty & Essex - They serve you champagne in the bathroom and have an amazing selection of tapas to nibble on. 
Favorite Bagels: You're in NYC, so bagels are obviously a must. Plus, you have to carb-load after all of that NY walking. Ess-a-Bagel and Tompkins Square Bagels are two of my favorites! 
Favorite Pizza by the Slice: You honestly, can't go wrong when it comes to NY pizza. I'd have to say that Joe's Pizza is one of my favorites. Joe's is cash only, so make sure you have some $$$ on you. 
Favorite Cocktail Bar: NY is full of bars, but the experience you will have at While We Were Young is ON POINT. From the marble counters and gold barware to the dried flowers floating in your cocktail, every detail makes you want to stay for hours to take in the ambiance and try every drink on their menu.  
Things To Do
Shop: You can't beat NY shopping. SoHo has amazing stores (like Sezane) with endless boutiques lined on cobblestone streets. Doesn't get much better than that. You can also head over to East Village if you are looking for some vintage treasures. 
High Line Park: High Line Park is an old railroad that was turned into a skyline walkway. The views of the city from the High Line are absolutely stunning. Pack your workout shoes, it's a 1.45-mile-long walk. 
Chelsea Market: You could spend a solid half-day at Chelsea Market exploring the up-and-coming vendor shops and restaurants. Even if you are a picky eater, you are bound to find something DELICIOUS at the market.