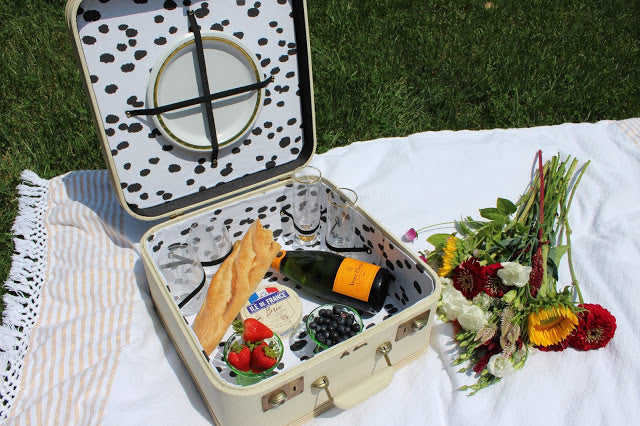 Remove the old lining. 
Clean the suitcase to get rid of any dirt and/or smell. I used Clorox and Windex. 
Use the removed lining as a template and trace around it on flat pieces of cardboard. 
Cut the cardboard with a razor. 
Cut a piece of fabric for each piece of cardboard that is about a half inch larger on all sides. You want to make sure that there is a little extra so that you can fold it over the back to secure with glue.
Glue the fabric to the cardboard and clamp until dry. 
Decide on what picnic items you want to create an elastic holder for and measure/cut your elastic accordingly. 
Poke holes into each side of the elastic and push a gold brad through. 
Measure and mark the area for where you want to attach the elastic to the fabric covered cardboard. Use a drill to make your holes. 
Insert the brads into each hole and fold back the legs to secure the elastic to the board. 
Adhere each cardboard piece to the interior of the suitcase with tacky glue and clamp. Allow for adequate dry time. 
Time to picnic!!!