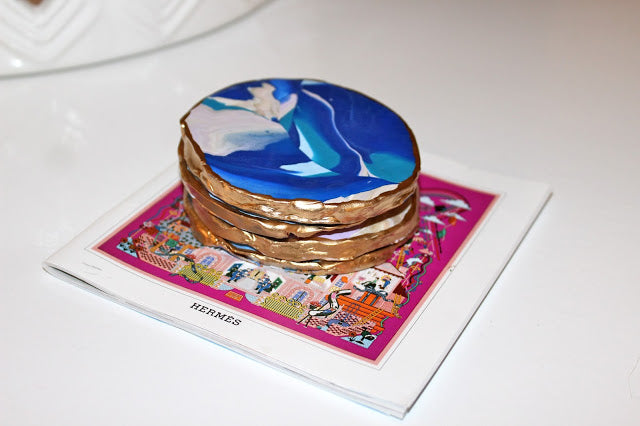 Supplies:
Sculpey oven-bake clay (pick an assortment of colors)
Clay cutting tools (I bought these)
Parchment paper
Sculpey gloss glaze
Paint brush
Gold liquid gilding
Clay roller
Cocktail glass

"Roll Out":

Break off pieces of clay in the desired colors that you want to use for your coaster. I broke off about 1/4 (of the 2oz package) of clay per color per coaster. 
On a clean surface, use your hands to roll out each color so that they are somewhat even in length and width. Don't worry if it isn't perfect, the variation creates an interesting effect. 
Twist all of your colors together, then roll. 
Fold the mixed clay in half, twist again, and roll. Repeat this step at least 2x. 
Form a ball of clay and use your roller to flatten the ball evenly. You want each coaster to be about 1/4" thick. 
Place the bottom of your cocktail glass on the marbleized section of the clay that you love the most and use your cutting tool to trace a circle around the glass. 
Remove the excess clay and put the coaster on your parchment paper. Use your finger to smooth out any bumps on the top and sides of the coaster. 
Preheat the oven to 275 degrees.
Bake the coasters for 30 minutes. 
Once the coasters have baked, allow them to cool to room temperature. 
Using a small brush, apply the liquid gold gilding to the side and top edge of the coaster. Allow adequate time for the gold gilding to dry.
Seal your coasters. Apply the Sculpey gloss glaze to the top of the coaster. This will protect your clay masterpieces from liquids.